"Countering Bullying, with Aloha" - The Huffington Post

It's back-to-school time in Hawaiʻi. Over 200,000 students will enter grades K-12 this year, full of curiosity and ideas. Unfortunately, many of them will have their studies disrupted and hopes crushed by bullying.
Despite our reputation as the "Aloha State," surveys show that one-fifth to over one-half of students in both public and private schools have been bullied or harassed. And even though more than 90 percent of voters say that "bullying is important for the state of Hawai'i to address," attempts to pass a statewide Safe Schools Act have failed repeatedly in the legislature. Some parents, such as a father whose two young children were bullied for years without intervention in East Hawaiʻi schools, have even resorted to suing the Department of Education.
We're fortunate that several local groups have stepped in to develop their own anti-bullying programs; the E Ola Pono, Adult Friends for Youth Anti-Bullying and Violence Convention, and Mental Health America of Hawaii Pono Youth Program are outstanding examples. Even local comedian Augie T is helping out through B.R.A.V.E. Hawaiʻi, a program started by his daughter after she herself fell victim to bullying.
But bullying doesn't occur in a vacuum; it's the product of underlying stigma and prejudice. That's why it's time to move beyond telling children that it's bad to be mean, and start showing them why it's good to be inclusive and accepting - not just for the targets of bullying, but for everyone in the school and community.
We had the opportunity to witness first-hand the effectiveness of this approach during our two years of filming Kumu Hina, a nationally broadcast PBS feature documentary about a Native Hawaiian teacher who empowers her students at a small public charter school in downtown Honolulu by showing them the true meaning of aloha: love, honor and respect for all. It's a powerful lesson for children and adults alike.
In order to make Kumu Hina's teaching available to students and teachers in K-12 schools across the islands, we've produced a youth-friendly, short version of the film called A Place in the Middle that focuses on the story of one of her students, a sixth grade girl who dreams of joining the boys-only hula troupe. This might make her a target for ridicule and bullying in many schools, but the outcome of this story is very different. It's a powerful example of why students who are perceived to be different, in one way or another, deserve to be celebrated precisely because of those differences, not simply tolerated despite them.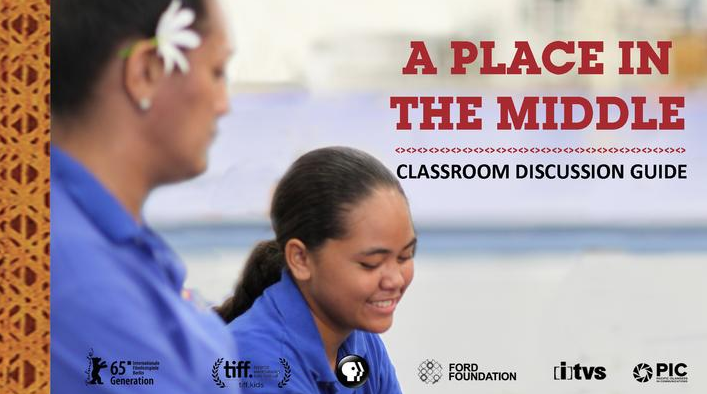 Overcoming bullying in Hawai'i requires a systemic, long-term, multifaceted approach. The true story of a local girl who just wants to be herself - and in so doing helps her fellow students and entire school - is a good place to start.
A Place in the Middle is available at no cost for streaming and download from PBS Learning Media and on Vimeo, and the accompanying Hawai'i Teacher's Guide can be downloaded from the Hawai'i Educators Website. The program will be touring Public Libraries across the islands beginning this fall.