Free Gender Diversity Resources for Educators
As the new school year begins, communities across the country are searching for ways to help ensure that all students, including transgender students, can attend school in an environment free from discrimination.
To help educators seeking to deepen their own understanding and get students thinking and talking about how to create a welcoming and inclusive school climate, a powerful resource modeled on Hawaiian culture's tradition of gender diversity is being made available for free to all interested in putting them to use in the classroom.
A PLACE IN THE MIDDLE is the true story of a young girl who dreams of leading the boys-only hula group at her Honolulu school, and a transgender teacher who empowers her and other students through sharing the importance of treating all people with dignity, honor, and respect.
This inspiring youth-focused PBS Learning Media film includes a Classroom Discussion Guide with background information on Hawaii, conversation triggers, lesson plans, and links to Common Core Educational Standards.
A PLACE IN THE MIDDLE has been reviewed by cultural and education experts and recommended for use in elementary, middle, and high school, with special relevance for grades 4-12. It has also been incorporated into the Perspective for a Diverse America anti-bias framework and Expanding Gender: Youth Out Front curriculum.

The film, teaching guide, and resources are all available for free, and a team of professionals is also available to help with workshops for teachers, administrators, and students interested in additional training.
For more information contact:


Joe Wilson
A Place in the Middle
Community Education Coordinator
e: QwavesJoe@yahoo.com
t: 808-629-9864
All project resources can be viewed & downloaded at these links: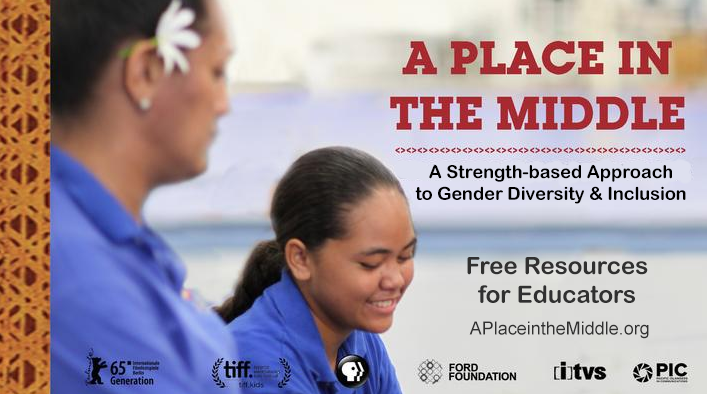 What People are Saying about A PLACE IN THE MIDDLE
"An amazing tool to help educators understand the need for acceptance for each and every child regardless of gender expression."
- Tracy Flynn, Welcoming Schools
"One of the most positive films about the transgender experience I've ever seen."
- Jennifer Finney Boylan, Professor, Barnard College of Columbia University
"This educational project is part of the continuing revival and growth of awareness of kanaka maoli traditions that are so relevant in Hawaii today."
- Puakea Nogelmeier, Hawai'inuaiakea School of Hawaiian Knowledge, Univ. of Hawaii
"A valuable teaching tool for students of all ages, as well as for parents and educators."
- Carol Crouch, Ele'ele Elementary School, Kauai
"An inspiring coming-of-age story on the power of culture to shape identity, personal agency, and community cohesion, from a young person's point-of-view."
- Cara Mertes, Ford Foundation
"A powerful film that breathes with life ... a true 'Whale Rider' story."
- The Huffington Post
This PBS Hawaii conversation may also be helpful: